Apples can fill a variety of roles in a home landscape, from providing shade to marking boundaries as an edible hedge.
Apple trees (Malus spp.) are not just for orchards. These versatile and highly ornamental trees are suited to a wide range of uses around the garden. From showy shade trees to edible hedges, apple trees can fill many roles in the garden within U.S. Department of Agriculture plant hardiness zones 3 to 9.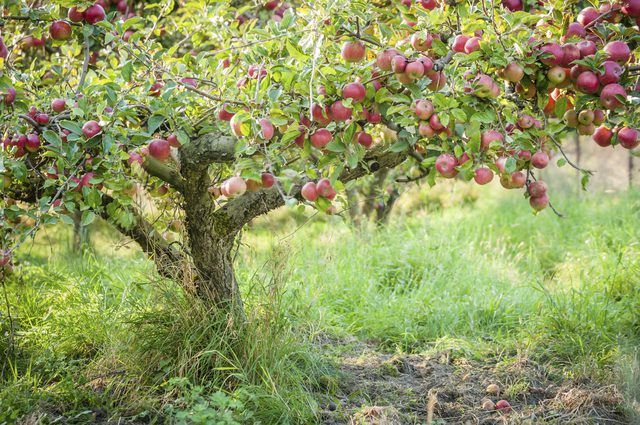 Fruiting Focal Point
A well-placed apple tree makes an eye-catching addition to landscaping year-round. The fragrant, delicate blossoms, lush foliage and showy, edible fruit add ornamental and practical value during the spring and summer, while its handsome, spreading frame provides structure during the winter after its leaves drop.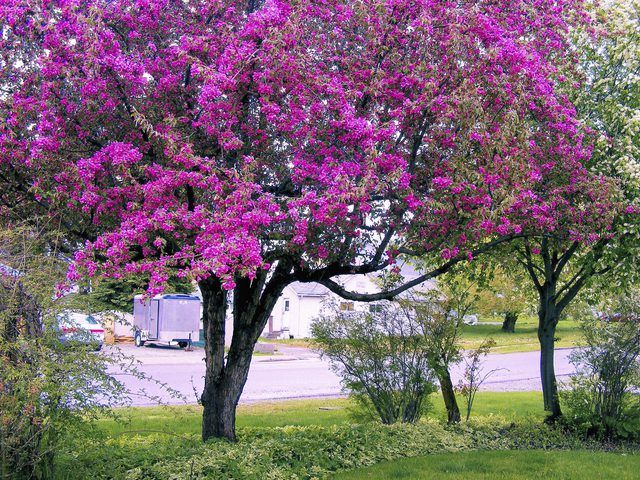 For best results, choose a cold-tolerant variety such as 'Ben Davis' (Malus domestica 'Ben Davis,' USDA zones 3 to 7) if you live in a cooler climate or a heat-loving classic like 'Granny Smith' (Malus domestica 'Granny Smith') in warmer climates within USDA zones 5 to 9. Plant them in a drift of low-lying, variegated ground cover or near a patio where its graceful branches can cast much-needed shade.
Enchanting Espalier
Espalier, or the art of training a tree to grow flat against a structure, provides a way to dress up otherwise unattractive blank walls around a home and garden. Many apple varieties respond well to espalier training, including cold-tolerant varieties such as 'Sweet Sixteen' (Malus domestica 'Sweet Sixteen,' USDA zones 4 to 7) and 'Golden Delicious' (Malus domestica 'Golden Delicious,' USDA zones 4 to 9).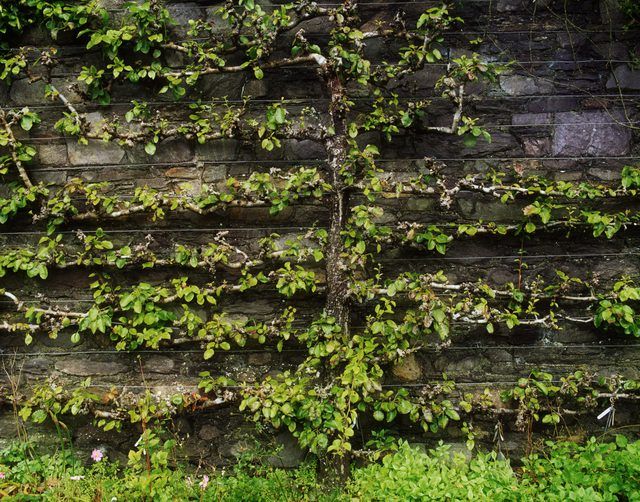 Size isn't an issue when choosing an apple tree for espalier, but note that cultivars such as 'Sweet Sixteen,' which can vary in size between 8 and 15 feet depending on their rootstock, look more proportional when grown against a shorter wall. Espalier training can take five to seven years to complete, but the trees will produce more fruit in proportion to their size than standard trees grown in an orchard, so patience will be rewarded.
Pretty in Pots
For smaller yards with limited landscaping space, try growing a potted apple tree. Not only does it create an attractive focal point on decks and patios, it will also provide a crop of fruit in late summer or early autumn. Just be sure to choose a dwarf apple variety such as 'Blondee' (Malus domestica 'Blondee,' USDA zones 5 to 8) or 'Enterprise' (Malus domestica 'Enterprise,' USDA zones 4 to 7) that grows to no more than 10 feet high.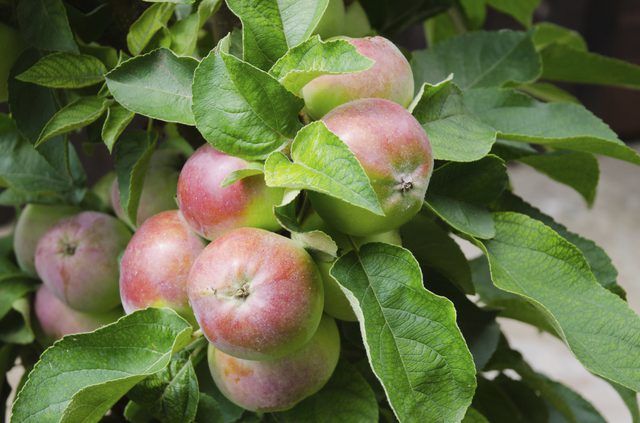 Note that most trees and shrubs grown in pots seldom reach their full mature size. Grow them in a container that holds at least 15 gallons of soil, and choose one with multiple drainage holes around the base.
Edible Hedges
A fruiting hedge creates a practical and pretty boundary marker with Old World charm. This low-maintenance landscaping choice works best for larger rural and semi-rural properties with plenty of space. Most standard apple trees do not respond well to hedging, but wild varieties such as Sargent's crabapple (Malus sargentii) make an attractive, rewarding choice for hedging within USDA zones 4 to 7. Simply plant the trees 18 to 30 feet apart and prune them back by half with sanitized pruning shears to encourage denser growth.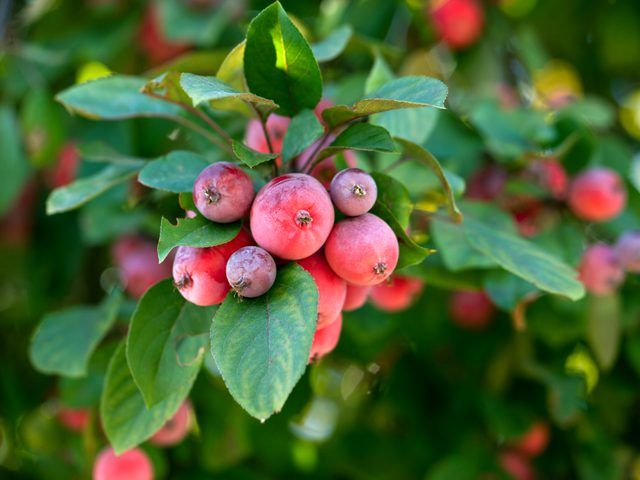 The height of a hedge is a matter of personal preference and local zoning laws, but suitable hedging varieties such as Sargent's crabapple reach a manageable height of 6 to 8 feet at maturity.
Check out these related posts