Create a Mediterranean garden by mixing plants that thrive in chilly, wet winters and hot dry summers with natural hardscaping.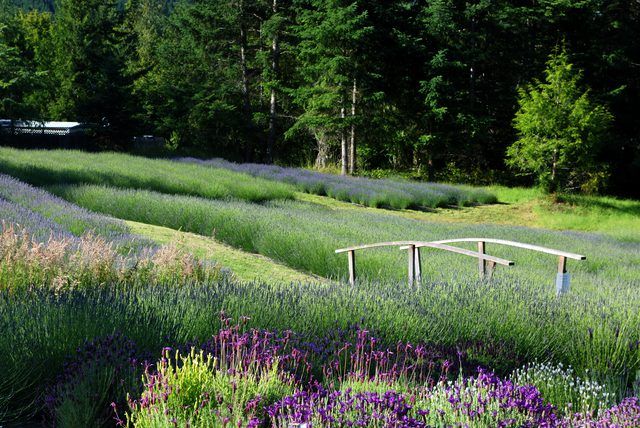 You already have your own definition of a Mediterranean garden. For some, the term may bring to mind the deep lavender fields of Tuscany. Others dream of the gray-green textures of evergreen trees, thin-leafed, foliage plants set amid statuary, terra cotta pots of vibrant flowers or potagers with fragrant herbs and juicy vegetables. Whatever the term "Mediterranean garden" means to you, it is likely you can bring the magic into your own back yard.
Pieces of the Mediterranean Garden Puzzle
The plants of the Mediterranean basin -- think eastern Spain here, and France, think western Italy -- has many fans, not all of whom live in those fabled areas. But if your area has cool, wet winter weather, and toasty dry summers, you are good to go. Select elements of the Mediterranean look that work with your space and fit your taste.
Evergreen Trees
Summers beside the Mediterranean Sea are hot, and shade is key to a tranquil life. Many Mediterranean gardens incorporate evergreen trees or fruit trees that are gracious and practical. Iconic trees of this type of garden include slender blue Italian cypress (Cupressus sempervirens 'Glauca'), which grows in U.S. Department of Agriculture plant hardiness zones 7 through 10, and olive (Olea europaea, USDA zones 8 through 10). But Meyer lemon (Citrus x meyeri, USDA zones 9 through 10) and fig (Ficus carica, USDA zones 6 through 9) also work well.
Evergreen Shrubs
No shrub says "Mediterranean" louder than lavender (Lavandula spp., USDA zones 5 through 7) with its vibrant blue or purple spikes of fragrant flowers. Silver wormwood _(Artemisia arborescens_, USDA zones 7 through 10), with its silver needles, is also excellent as a hedge or specimen plant.
Perennial Herbs
Adding perennial herbs provides both fragrance and colors typical of Mediterranean gardens. Excellent choices that serve your kitchen as well as your garden include:
Oregano (Origanum vulgare, USDA zones 4 through 9)
Thyme (Thymus vulgaris, USDA zones 4 through 9)
Rosemary (Rosmarinus officinalis, USDA zones 7 through 11)
Stone or Terra Cotta Hardscaping
Mediterranean gardens generally are less formal than English gardens, and the hardscaping tends to be made of natural materials such as rock. Dry walls are classic elements, and everyone is familiar with the large terra cotta containers frothing with brilliant splashes of summer flowers.
Things You'll Need
Soil testing kit
Terra cotta pots or hanging baskets
Well-draining potting soil
Step 1
Sketch out your Mediterranean garden project on paper. If you plan to create hardscaping elements like fountains, stone walls or garden paths, you're best off doing these early in the project rather than working around plants later. Bring in a landscape architect if your plans exceed your capabilities.
Step 2
Select and plant foundational trees and shrubs. Check the plant selections to make sure they match your hardiness zone, soil type and sunshine levels. If you aren't sure of your soil, use a home soil tester or take soil samples to a university extension laboratory. Not every Mediterranean-style plant thrives in the same zones on the same type of soil, so do your homework before you plant to save yourself problems later. For example, lavender prefers alkaline soil, while Italian cypress will grow in acidic or alkaline. Most Mediterranean plants grow well in sunny areas with well-draining soil.
Step 3
Plant bright flowers like geraniums (Pelargonium x hortorum, USDA zones 10 through 11) in terracotta pots or hanging baskets to add a splash of color that livens up the traditional gray-greens of Mediterranean plants. Use pots with drainage holes and well-draining potting soil.
Tip
Check out these related posts