If you decide to focus on fragrance in your garden, add plants that have flowers, leaves or trunks that offer delightful smells during the day or at night.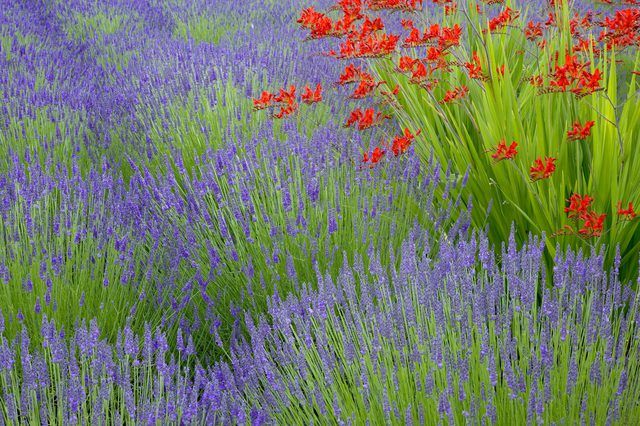 You may find yourself thinking so much about the colors and textures of plants that you overlook fragrance. Yet scent is perhaps the most powerful sense and the one closely associated with memory.
Plants use blossom fragrance to attract pollinators, but that's just for starters; sometimes it's the plant leaves that are fragrant, sometimes bark emits a scent or even the plant's roots. It isn't difficult to bring fragrant plants into your garden if you set your mind to it.
Step 1
Take slow walk through your garden on a sunny morning and evaluate it with new eyes, or, rather, a new nose. Just because you have decided to install a fragrance garden doesn't mean everything has to go. Think of it more as focusing on fragrance. Stop beside each plant and sniff -- the flowers, the leaves, the bark of trees. Don't forget vegetables and herbs. Many have pleasant odors too. Note what smells good and what smells great.
Step 2
Repeat your garden inventory walk at dusk or later. Some plants release fragrance only at the close of day to attract evening pollinators like bats or moths.
Step 3
Identify areas of your garden that offer little or no fragrance and target these for top priority in your focus on fragrance. Note the amount of sun in those areas and the type of soil. Taking your climate and hardiness zone into consideration, pick something with a scent you can't resist and plant it. Audition these fragrance superstars as possible options for leading roles:
Lavender (Lavandula angustifolia) grows in U.S. Department of Agriculture plant hardiness zones 5 through 9 in full sun and well-draining soil.  Lavender leaves are aromatic when rubbed and the fragrance of the stalks of purple flowers is sweet.
 Camellia (Camellia japonica__) grows in USDA zones 7 through 9 in sun or light shade and acidic, well-draining soil. The white, waxy flowers above shiny green leaves presents a picture of elegance, and the alluring fragrance is so powerful you might not want to plant one too close to a bedroom window.
 Tea olive (Osmanthus fragrans) grows in USDA zones 7 through 9 and tolerates shade as well as may types of soil. The small white flowers of this evergreen are among the most fragrant you can find, and the intoxicating odor can carry for 100 feet.   
Step 4
If all your current fragrant plants smell great during the day, select one or two that liven up the night with their sweet perfume.
Night-blooming jasmine/jessamine (Cestrum nocturnum), an evergreen shrub, grows in USDA zones 7 through 11 in partial or full sun with generous watering. The fragrance comes out at night, heavy and sweet.
Moonflower (Ipomoea alba) is a tender perennial vine often grown as an annual that shoots up rapidly in USDA zones 7 through 11. Each gorgeous, white funnel-shaped flower opens in late afternoon and is dead by morning, but its fragrance fills the night.
Angel's trumpet (Brugmansia suaveolens), a hefty shrub, drips with huge funnel-shaped flowers in USDA zones 9 through 11 in full sun with afternoon shade. It needs moist, well-draining soil.  The flowers can grow 12 inches long and their nocturnal fragrance is bewitching.
Check out these related posts