Arrangements of potted flowering plants add beauty and life to corners of the patio, porch or backyard, coordinating colors, shapes and sizes of containers.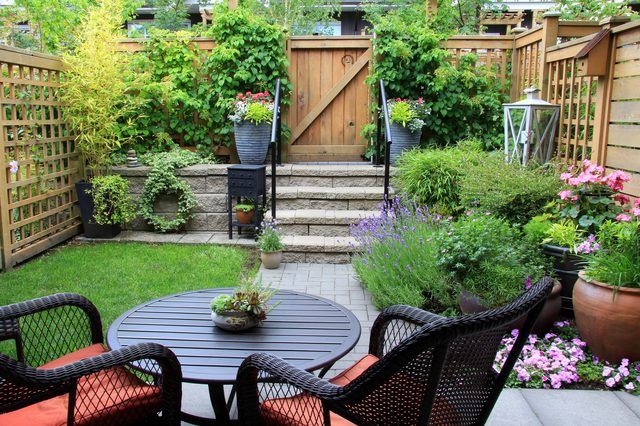 If you donít have room for an ornamental garden or you donít have the time to dig and toil, think flower pots. Potted flower arrangements have a sophistication of their own and can provide as complex a sensual delight as backyard beds. Designing a beautiful container garden requires a basic understanding of color, size and texture combinations, as well as a creative approach to mixing plants and materials.
Corners for Containers
Container gardens fit in almost anywhere, from patio to poolside. Any corner of empty space can be the site for an arrangement of pots filled with flowers, including entryway stairs and that shady area beneath the big tree. Identifying the future home of a container assists immeasurably in finding the right pots since their purpose becomes apparent. Planters on either side of the driveway serve as sentinels to mark the entrance. Youíll have to think big; tiny pots will be lost in this role. On the other hand, a cluster of small pots arranged on the stairs to the deck invite guests to enter. Add additional dimension to the arrangement by varying the heights of potted plants; place some on overturned containers or using interesting and unusual plant stands.
Matchmaking Pots and Places
Picking pots is a basic element of creating flower pot gardens, and there is no consideration more important than location: where is this container going to go? You will pick pots of different sizes, styles, shapes and colors for gracing a sunny oak patio than you would for placement before the red brick entrance of a townhouse. The architectural details of your home help narrow your choices. If you live in a small log cabin, pick pots in natural materials such as stone, weathered wood or even beaten copper. Large, elegant planter pots might be more appropriate near the entrance to an elegant Victorian than a cluster of 6-inch containers.
Tip
When it comes to flower pot clusters, unite the arrangement by using containers of the same material or of the same color or size. Using six identical pots with six identical plants spaced along a walkway or beside a low wall will emphasize its length, giving a strong impression of order. Using the same pots with five disparate plants lends harmony to a more whimsical design.
Picking and Installing Plants
The plants you select must be of an appropriate scale and color for the pot, and must also coordinate with other flowers and foliage in the grouping. If you mix too many species and colors, your flower pot garden may look chaotic rather than lively. Consider picking a color scheme for the arrangement and repeating the color somewhere in each pot; including yellow flowers in each of five pots will unite the grouping even if the flowers are of different sizes and species.
Warning
Be sure that the pots you use have adequate drainage holes so that your plants wonít sit in water. If you are planting directly in the containers, place a small piece of window screen over the holes to keep dirt from exiting with the water.
Planting Containers
When youíve picked containers and flowers, itís time to bring the two together. Hereís how to do it.
Things You'll Need
Window screens
Broken pottery
Potting soil
Plants
Step 1
Cut pieces of window screen to cover the drain holes of the container if they are bigger than 1/2 inch in diameter. Alternatively, put pieces of broken pottery into the bottom of the container -- a 2-to-3-inch layer -- directly on top of the drain holes. Put enough potting soil in the container to fill it about 3/4 of the way to the top.
Step 2
Place the plants in the container, leaving them in their plastic pots, until you determine the perfect arrangement. Remember to put plants that will grow taller in the center of an arrangement if the pot is to be viewed from several sides.
Step 3
Squeeze the plastic pot of each plant until its roots and soil come out in one piece. Place each one in its assigned spot. Adjust the soil so that a plant is installed at the same level as it was in the plastic pot.
Step 4
Fill in between the plants with potting soil and gently press it into place. The soil level should come to 2 inches below the lip of the pot. Pour in water slowly until it runs out from the drain holes.
Check out these related posts