In southern climates, choose either European grapes, which produce large bunches, or muscadines -- native southerners that produce small clusters of grapes.
Grapes do best where the growing season is long and vines can live and produce sweet fruit for 30 years or more. Vines need full sun for at least the morning hours and do best with support. To ensure success, it's also important to choose the type of plant that's best suited to your warm climate.
Different Types of Grapes
Grape choices can be drawn from among three different types, each with distinctive features and climate preferences.
American Grapes
The American grape (Vitis labrusca) is the most cold hardy and generally does best in cooler regions of the United States, where it gets the chill time it requires during winter. The cultivar 'Concord' (Vitis labrusca 'Concord') is an example that grows in U.S. Department of Agriculture plant hardiness zones 5 through 8; in the warmest part of its range, winter temperatures fall as low as 10 to 15 degrees Fahrenheit during winter.
European Grapes
Like the American grape, the European grape (Vitis vinifera) produces large bunches of grapes; for this reason, both types are called bunching grapes. But the European group is native to Mediterranean regions of Europe and thrives in warm climates. Traditionally used for wine, European grapes are also flavorful eaten fresh or processed into jams and jellies, and they can thrive in areas where winter frost is rare or absent. They generally grow in USDA zones 5 through 9 or 10, with some differences among varieties.
Muscadine Grapes
A third type of grape, called a muscadine grape (Vitis rotundifolia), is a southern native with thick-skinned fruits that have sweet flesh. This plant produces small clusters of grapes, rather than bunches; muscadines generally thrive in USDA zones 6 or 7 through 10, with some variation depending on the cultivar.
Tip
Muscadine plants are either male or female -- called dioecious -- so plant at least one male vine with female vines to get a crop.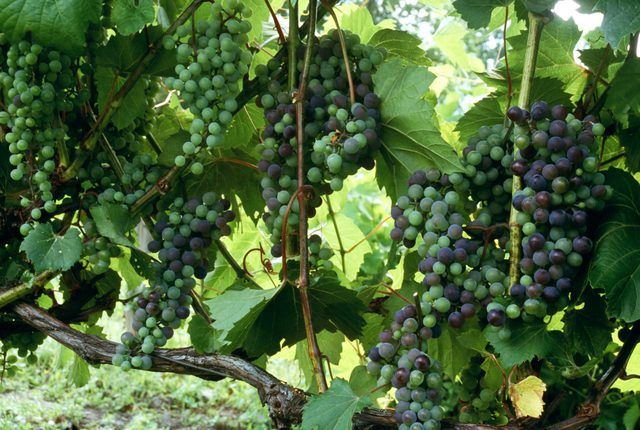 European Grape Cultivars
Many European grape vines do well in warm areas, including one called 'Blanc du Bois.' Especially adapted to southern parts of the United States, it tolerates heat and humidity, producing yellow grapes on disease-resistant vines. A grape vine called 'Black Spanish' is another good selection for warm areas, with good resistance to fungal diseases that can develop in hot, humid summers. Its grapes are bluish black and often used to make jelly or juice. Both cultivars grow in USDA zones 6 through 10.
A variety called 'Thompson' is also a good choice for warm areas, growing in USDA zones 6 through 10. It produces bunches of medium-sized, greenish or golden grapes that are seedless, making it especially useful for fresh eating.
Muscadine Varieties
Muscadine grapes are usually purple or black, but some vines produce bronze or golden grapes. These are sometimes called scuppernong grapes, a sub-class of muscadines. Varieties that thrive in warm areas, such as USDA zone 10, include 'Black Hunt,' a producer of extra-sweet grapes suited for jams, juice and wine, and 'Red Scarlet,' a vine with large red grapes. These are both female vines that grow in USDA zones 6 through 10. To ensure pollination and a good crop, add a male vine such as 'Black Nesbit,' which is extra-productive, with grapes that have a long harvest season, or try 'Bronze Dixie,' a scuppernong with sweet, golden grapes. These male varieties also grow in zones 6 through 10.
Check out these related posts