Navigate the dozens of annual herbs available in garden stores and nurseries by deciding what type of herb you're looking to grow.
There are dozens of herb varieties, which can make choosing an annual herb a difficult process. Navigate the decision-making process by knowing what type of herb you want. Typically, herbs are classified into four major types:
Culinary 
Aromatic 
Medicinal 
Ornamental
Some herbs cross over into multiple categories, but these general categories can provide a launching point for you to discover and explore the world of herbs and decide which ones you want in your garden.
Culinary Annual Herbs
Herbs used for culinary purposes are some of the most commonly grown types. Use them to impart new flavors to your favorite meals. Examples of culinary annual herbs include:
Parsley (Petroselinum crispum), which does well in partial shade or full sun. It needs consistently moist soil that's well draining. It can reach a height of 12 inches and is grown for its delicately textured foliage.
Garden cress (Lepidium sativum), which thrives in moist, well-draining soil that's rich in organic matter. Cress needs partial shade or full sun. It grows in a mound or clump with curly, ruffled leaves that look similar to parsley.
Cilantro (Coriandrum sativum), which prefers average, well-draining soil in light shade to full sun. It can grow up to 2 feet high and creates a sprawling, loosely growing clump. Its showy blossoms that come in purple, pink or white add ornamental value.
Tip
Know an herb's sunlight requirements to ensure it's right for your garden. Most herbs do best in full sun, which is six or more hours of sunlight every day. Partial sun is four to six hours of sunlight daily. Partial shade is two to four hours of sunlight. Shade is less than two hours of sun a day.
Aromatic Annual Herbs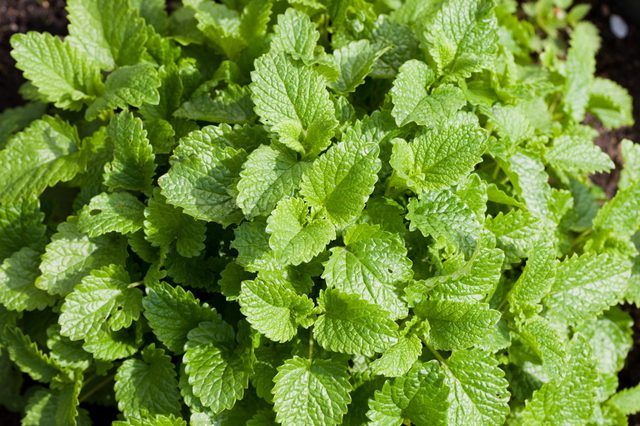 Aromatic herbs are prized for their strong aromas. Used fresh or dried, such as in potpourri, these herbs brighten a room's air without the use of chemical-laden commercial air fresheners. Aromatic annual herbs include:
Lemon balm (Monarda citriodor), which has fragrant flowers and leaves that impart a citrus-like aroma. Also known as lemon beebalm, it grows up to 2 1/2 feet tall in full sun or partial shade, and prefers average, dry soil.
Sweet marjoram (Origanum majorana or Majorana hortensis) is typically grown as an annual in full sun and well-draining soil, but can survive as a perennial in U.S. Department of Agriculture plant hardiness zones 9 through 10. It grows up to 2 feet tall and has finely textured cascading stems and fuzzy, gray-green oval leaves that are often used in potpourri.
Summer savory (Satureja hortensis) prefers light, sandy soil. It needs full sun and cannot tolerate any shade. It grows approximately 16 inches tall with vertical, upright stems topped by pale pink blossoms. This herb's essential oils are commonly used to make perfume.
Medicinal Annual Herbs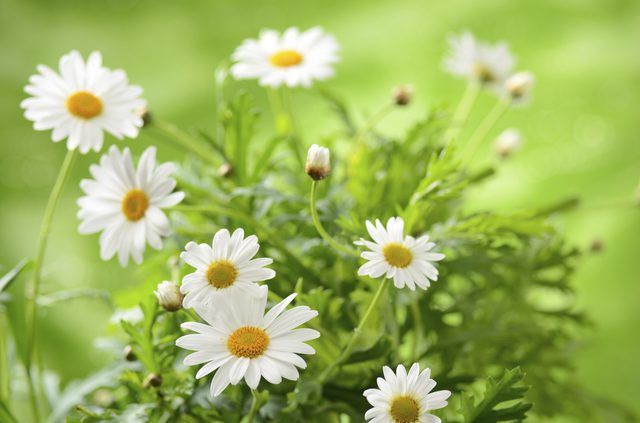 Herbs have been used for centuries for various medicinal purposes, including some of the previously mentioned herbs. For example, summer savory's supposed medicinal benefits include reducing flatulence and being an aphrodisiac. Other medicinal herbs include:
German chamomile (Matricaria recutita), which reaches a height of 2 feet in full sun and average, dry soil. It can tolerate very poor soil conditions. White and yellow blossoms add ornamental value. Its thin, textured leaves are used to make tea that some say helps to relax and alleviate stress.
American pennyroyal (Hedeoma pulegioides), a wildflower that reaches a height of 12 inches. Clusters of white flowers grow next to oblong, oval green leaves. It grows best in light shade to full sun and prefers rocky, dry soil. It is purported to alleviate a wide range of maladies.
Borage (Borago officinalis), a culinary herb that is said to help improve a sense of well-being. It reaches heights of up to 3 feet, prefers rich, well-draining soil and needs full sun. Bright blue blossoms create ornamental value.
Warning
Consult a doctor before using herbs for medicinal purposes. Some herbs are toxic if used at certain dosages. Other herbs may interact with medication or affect pre-existing medical conditions. Just because it's natural doesn't mean it's safe for everyone.
Ornamental Annual Herbs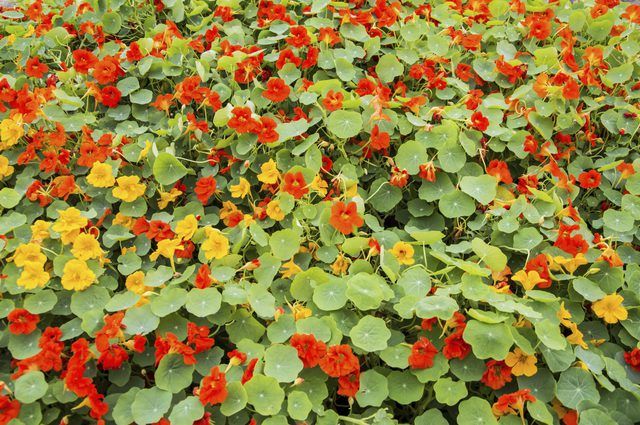 Beauty is in the eye of the beholder, and many of these culinary, aromatic and medicinal annuals also have textured foliage or colorful flowers that enhance the appearance of a garden. Additional annual herbs that are often grown for ornamental purposes include:
Nasturtium (Tropaeolum spp.), prized for neon-colored edible blossoms that attract butterflies. Circular leaves grow on long, trailing vines that cascade, making nasturtiums ideal for hanging baskets in full sun. This herb grows best in poor to average well-draining soil.
Chives (Allium schoenoprasum), grown for both culinary and ornamental purposes. This annual herb is known for brilliant purple blossoms and variegated vertical foliage that grows up to 1 1/2 feet tall. The clumping herb performs best in well-draining soil in full sun or partial shade.
Chervil (Anthriscus cerefolium), prized for clusters of fine, white blossoms surrounded by lush, fern-like foliage. Chervil prefers well-draining soil rich in organic matter and can tolerate full shade to partial shade.
Check out these related posts