Balance isn't always formal; playing with colors, sizes and arrangements can lead to a visually appealing flowerbed.
Balance is a major design element when it comes to laying out a landscape and individual flowerbeds. "Balance is equilibrium on left and right sides," as put by Colorado State University Extension. It heightens the visual appeal of a flowerbed, but the design doesn't need to be perfectly symmetrical. Different elements in a flowerbed play into balance.
Symmetric vs. Asymmetric
In a formal design, gardeners achieve balance by using symmetry: One side of a flowerbed is a mirror image of its other side.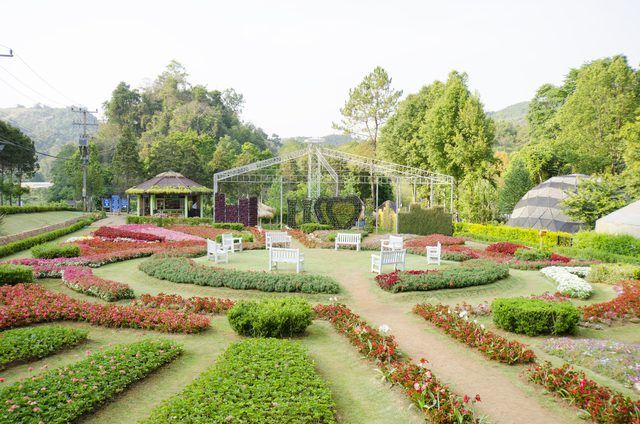 In informal garden design, which is more common, balance is achieved by scaling different elements to complement and even out each other.
Bulk and Height
When designing a flowerbed, the common practice and general rule is to put the tallest plants in the back when the bed is viewed from only its front or to put them in the middle when the bed is an island, such as in the middle of lawn. The tallest focal-point plant is complemented by a stair-stepping decrease in height of the other plants. This rule allows for a simple way to create balance without too much hard work and thinking.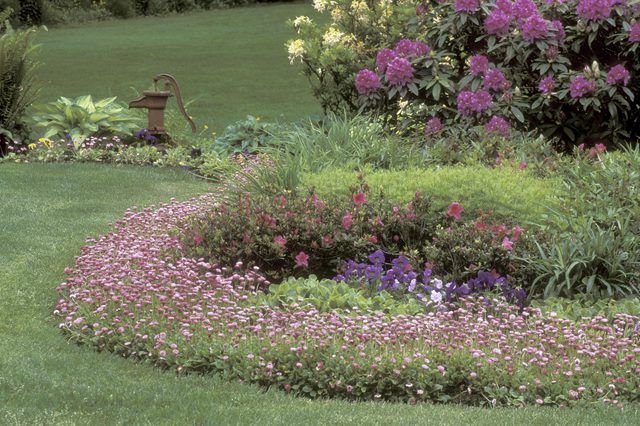 Some rules, however, can be broken. The tallest plants often serve as the focal point of a flowerbed with other plants surrounding them and completing the look. When you work with plants of varying heights and have only one specimen for a tall plant, balance its visual weight; the tall plant adds a lot of visual weight wherever it is. When you have one visually "heavy" item, balance it with a group of smaller plants that holds the same visual weight.
Color Considerations
Color is another major element in landscape and flowerbed design. Three basic color themes exist in landscaping:
Monochromatic
A monochromatic theme involves using one color -- including different hues and shades of that color -- throughout the garden.* Analogous
An analogous theme involves using a few colors that sit side by side on the color wheel.* Complementary
When you try to create a balanced flowerbed, using a color theme can help you achieve your goal. Again, however, you don't have to stick to the rules. Although the three basic color themes are the primary design methods, don't worry if you want to use bright red and yellow or purple and fiery orange together. If the plant foliage or flower colors you choose don't look ideal next to each other, then you have a few options to blend them together.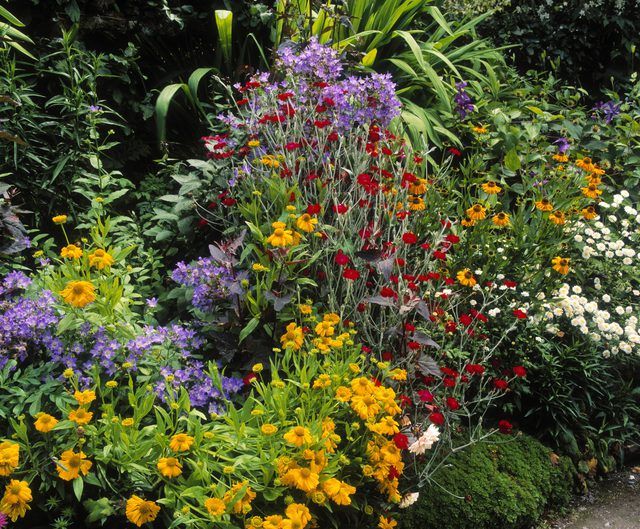 One of the simplest ways to blend one color with a non-complementary color is to use analogous colors to help create visual harmony. If, for example, you use purple-flowering 'Indigo Spires' sage (Salvia 'Indigo Spires') on one side of a flowerbed and bright orange-blooming canna lily (Canna x generalis) on the bed's other side, then place between them plants with flowers or foliage that progresses from purple to blue and then from yellow to orange. Because you use purple's analog blue, you can use orange's analog yellow; blue and orange complement each other as well as purple and yellow do. 'Indigo Spires' sage grows as a perennial plant in U.S. Department of Agriculture plant hardiness zones 7 through 11; canna lily is perennial in USDA zones 8 through 11.
When working with one plant that has bold color, balance your flowerbed by using a toned-down hue of the same color, or a variety of less vivid colors that complement the bold color, on the bed's other side.
Foliage and Other Characteristics
Don't underestimate the colors of foliage and fruit, or even bark and stems. The U.S. native red twig dogwood (Cornus sericea), for example, has showy red bark that is particularly vivid in winter when the plant has lost its leaves. This shrub, which is perennial, or hardy, in USDA zones 2 through 9, makes a striking counterpart to evergreens in winter.
Check out these related posts