Numerous methods for edging a flowerbed exist, including the use of natural materials, premanufactured edging and simple cuts.
You've taken the time to carefully design your flowerbed, choosing your plants and ensuring proper spacing and placement; the colors complement each other, and your flower garden is a miniature oasis in your landscape. One last step remains, however, to set your flowerbed apart from your lawn and make it the focal point you've been imagining: edging. Edging creates a definite line between a lawn and flowerbed. It doesn't have to be intricate; in fact, the simpler the edge is, the better it is because it won't compete with the beauty of the flowers.
Simple Cut Edge
Things You'll Need
String or rope
Flat-edged spade, half-moon edger, string trimmer with edging attachment or powered edger
A simple cut edge creates a visual and functional border between a lawn and flowerbed without additional materials.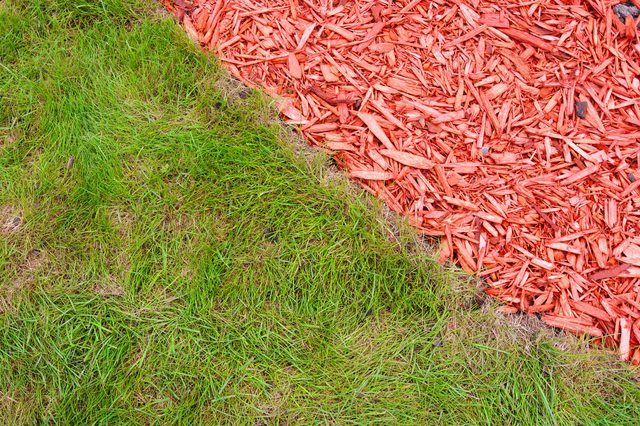 If your flowerbed isn't planted yet, mark its perimeter with string or rope. The flexibility of string and some ropes allows you to outline curves and angles. If your bed is planted, you may skip using the string or rope and simply work around the planted edge of the bed.
Starting at one end of the bed, or the string or rope outline of the bed, cut about 4 inches deep into the soil by using a flat-edged spade or other edging tool. Gently rock the spade's blade back and forth to make a V-shaped trench. Work your way down the bed or its outline, overlapping your blade cuts slightly as you go.
Instead of a flat-edged spade, a half-moon edger can be used. It is a manually operated, long-handled garden tool with a semi-circular blade at one end. Stick the blade into the ground, and roll it slightly to use that tool.
Warning
A flat-edged spade or half-moon edger is difficult to use for curves.
A string trimmer with the proper attachment or cutting edge may be used to make a simple cut edge, too. Many string trimmers have edging attachments. Others have the option of turning the cutting edge to create a bed edger.
Yet another option is a powered edger; it has a sharp blade that cuts as the machine's operator walks behind, guiding the edger.
After cutting the flowerbed's edge, fill the bed with mulch and gently rake the mulch downward so it slopes toward the cut edge.
Stone or Brick Wall
Things You'll Need
Shovel
Carpenter's level
Sand (optional)
Landscape stones or bricks
A stone or brick retaining wall along a flowerbed's edge adds texture and color. When installed correctly, the border wall complements the flowerbed instead of competing with it.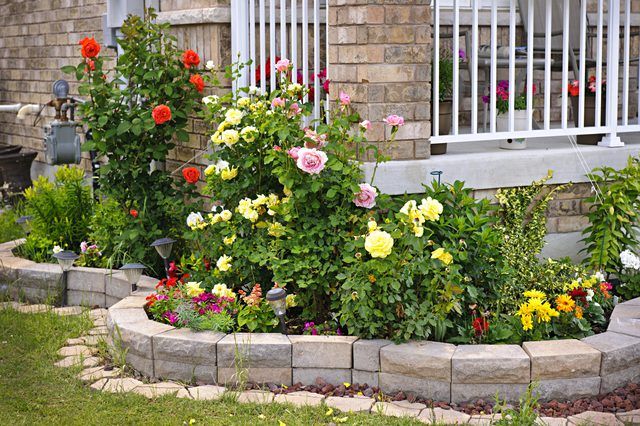 This method requires more work, time and money than a simple cut edge but adds value and appeal. The wall can have one or more layers of landscape stones or bricks, but the bottom layer should be flush or nearly flush with the soil level of the lawn.
Dig a trench around your flowerbed's edge, making the trench as wide and deep as one stone or brick. An option is to make the trench about 2 inches shallower than the height of a stone or brick. Lay stones or bricks in the trench along the flowerbed's border.
Tip
The trench's depth must be level to ensure the bricks or stones lay evenly on the ground. If making the trench level is difficult, then make the trench about 1 inch deeper than the height of a stone or brick, and apply a 1-inch layer of sand on the trench's bottom. Use the sand to make the stones or bricks lay evenly in the trench.
You may stack stones or bricks on top of the first layer to achieve a different look. Stagger the stones or bricks' placement or alignment in each layer.
Tip
If you wish to use several rows of bricks as your flowerbed edge, then use mortar between them to prevent them from slipping out of place. Retaining wall stones may not require mortar.
Rock Out
Large, locally sourced rocks and stones add a natural element to an informal flowerbed. Obtain them from other parts of your yard or from a supplier in your area.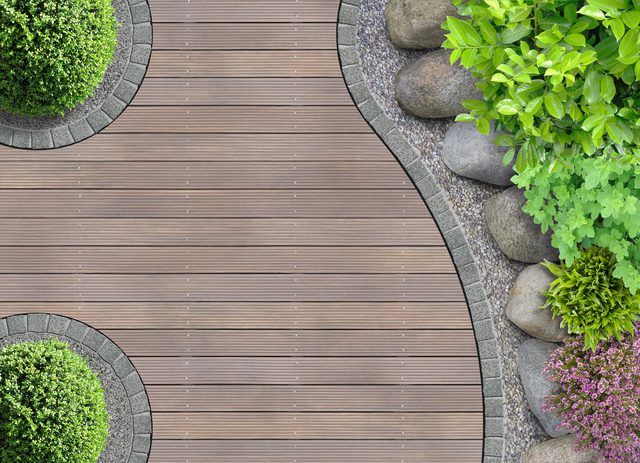 This type of edging can be cost-effective, depending on where you get the rocks or stones, but you may spend a lot of time getting those materials to look right.
Using natural rocks or stones allows you to be creative by choosing the right location for each individual one.
Store-Bought Simplicity
Hardware stores and garden centers usually have numerous premanufactured edging options lining their aisles. With selections ranging from small picket fence designs to simple black, plastic edging, you can choose from a variety of designs to suit your landscape's personality.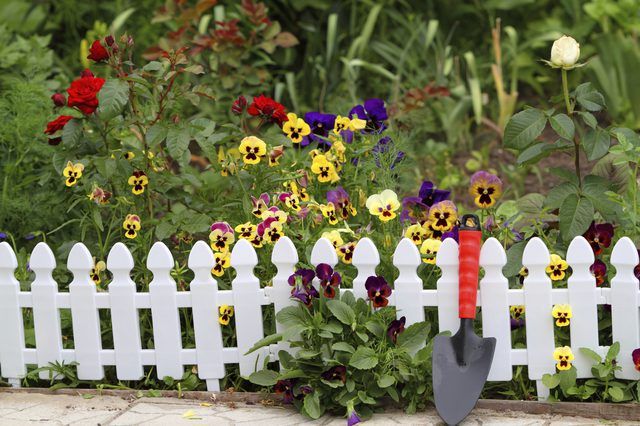 Most store-bought edging comes with stakes to hammer into the ground to secure the edging.
Check out these related posts